Diagnostic Solutions
Regular price
Sale price
$577.00
Unit price
per
Sale
Sold out
Share
View full details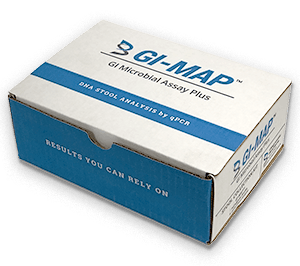 Tests for your gut health and digestive function
Overwhelmingly, research indicates that gut health impacts overall health. The gut microbiome, in particular, plays a critical role in mediating the effects of diet and other factors on health, including digestive, immune, metabolic and neuroendocrine functions. Assessing GI health with the proper tools can help us get to the root cause of chronic illness.
The GI-MAP (Microbial Assay Plus) is unique in the field of comprehensive stool testing. It relies exclusively on quantitative polymerase chain reaction (qPCR) technology to detect parasites, bacteria, fungi, and more, by targeting the specific DNA of the organisms tested.
Test will be mailed directly to your home after purchase. Stool sample required for testing - all supplies needed to collect sample and return to lab will be included in your kit. Result times vary, but generally takes 10-14 days after sample is received in lab.
* non-existing clients that wish to schedule a phone call with Dr. Whitfield's Functional Medicine Provider/BII Advisor to discuss results and post-test recommendations, are subject to an interpretation call fee of $325 for up to 30 minutes.
These statements have not been evaluated by the Food and Drug Administration. These products are not intended to diagnose, treat, cure, or prevent any diseases.